Securities Account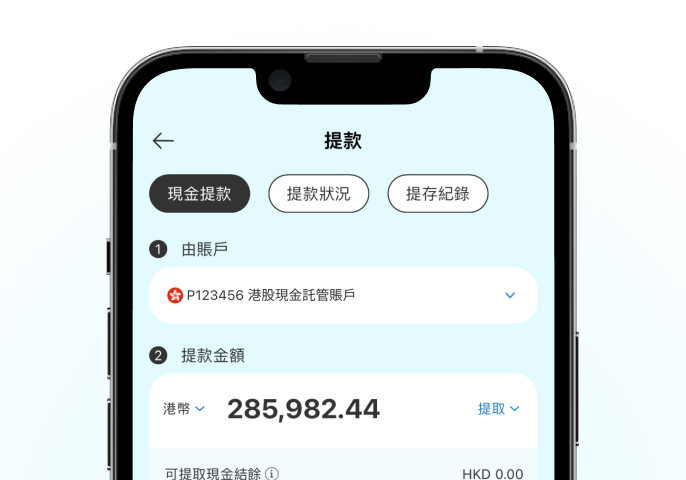 Submit withdrawal instructions through "

Chief Trader

" or

Top Trader
Accept Withdrawal Instruction Time: Every trading day 00:00 to 13:00
You can also use "Maximum Withdrawal Amount" (MWA) in your margin account to flexibly withdraw extra cash on the same day 4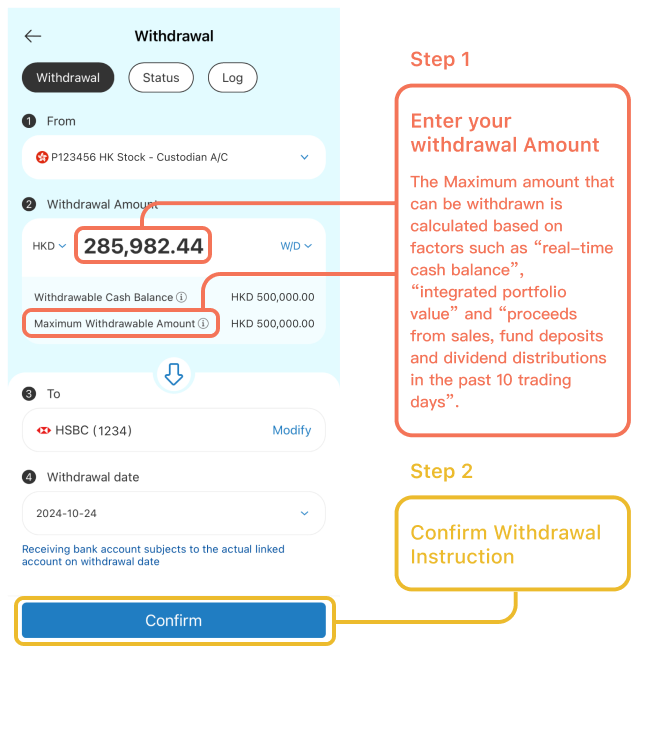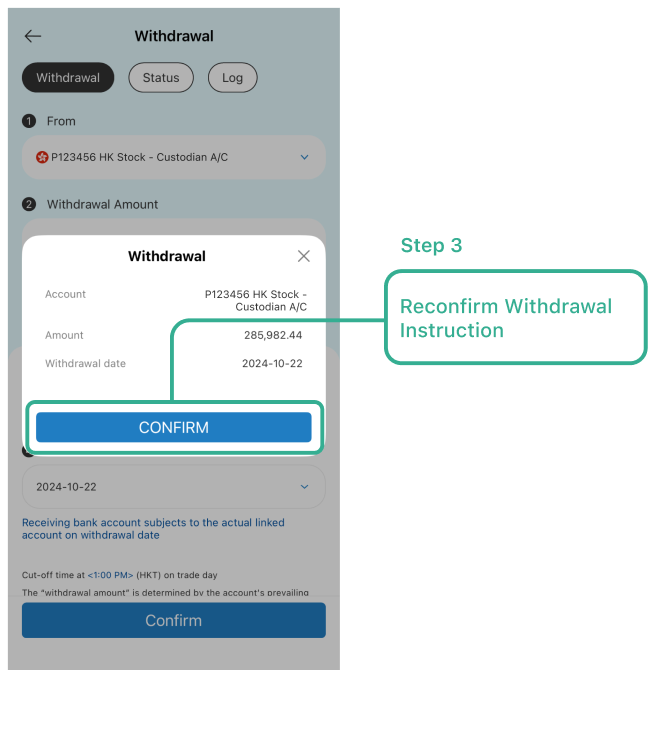 MWA Remarks:
MWA is only applicable to clients with margin account.
The processing time for withdrawal instructions and the time it takes for the funds to be credited to your account may vary depending on the specific processing procedures of the relevant bank.
The minimum fee is calculated based on the Prime rate offered by Chong Hing Bank and is subject to change at any time. Negotiable rates can be discussed for large loans.
The actual withdrawal amount is subject to the actual circumstances and approval from Chief Securities Limited (CHIEF).
Details
---
HK Futures Account
Submit through withdrawal function in "

SP Trader Pro HD

" or

SP Trader's

customer service
Accept Withdrawal Instruction Time: Every trading day 00:00 to 13:00
---
Customers can also call their respective branch or the following number to submit instructions before 13:00 on each trading day:
Remarks:
For clients who registered HSBC, Hang Seng Bank, Bank of China or Chong Hing Bank as their designated bank, relative funds of withdrawal orders before 13:00 will be deposited to customer's bank account after 17:30.
Withdrawals for clients who registered other banks as their designated bank, related funds will be deposited in the form of a crossed cheque. The cheque will be deposited to clients' designated bank account on the trading day, the related funds will be ready for use at 15:00 at the next trading day.
Account Details
Products and Services
Important Information